Celebrity Makeup Masterclass

Award
Certificate in Celebrity Makeup - Level 2

Awarded by
Are you makeup mad? Do you love watching makeup tutorials? But you can't quite master the art of makeup? This Celebrity Makeup Masterclass gives you the opportunity to learn how to do your makeup from a professional makeup artist, who has worked on television shows, and has done makeup for London Fashion Week.
The course is classroom based, so you'll have the chance to get hands on experience, watch live demonstrations, and ask questions. You'll see a real improvement and can finally learn how to get the perfect look. Not just that, you'll get a free goody bag, and an accredited certificate to show what you've learnt.

Award : Certificate in Celebrity Makeup
- Level 2

Awarded by
Speak to a Course Advisor
Why Choose us?
♦ Competitive pricing.
♦ Small class sizes.
♦ Friendly, attentive staff for flexible helpful service.
♦ Learn handy tips and tricks from an industry professional
♦ Watch a skincare demonstration
♦ Get a breakdown of the makeup products on the market
♦ Understand the application of makeup and how to achieve a flawless look
What is this training included?
♦ Training in full air-conditioned facilities from an experienced instructor.
♦ Receive extra course material
♦ You will receive CPD and iAP accredited training completion certificate end of the training which has no any additional cost.
♦ Also, you have an option to apply for ABC Awards accredited certificate by completing an assessment and you will receive this certificate directly from ABC Awards which has no any additional cost.
♦ Free access to the online version of the course
♦ Goody bag
♦ Study Manual
♦ Free refreshments
♦ Printed Course Manual 
♦ Tea, Coffee and Biscuits 
♦ Free Data Traveller (USB Drive)
♦ Stationaries (Notebook, and Pen)
♦ Access to Computers if needed Free Wi-Fi
♦ Access to Breakout Area
What will I study?
♦ The importance of skincare
♦ Makeup products in the industry
♦ Foundation application
♦ How to apply cream contour
♦ Eye makeup and application
♦ False lashes application
♦ Lipstick and application
What skills will I learn?
♦ Insider tips and tricks to make your makeup routine easier and quicker
♦ The fundamentals of skincare and how to carry out a good skincare routine
♦ What kinds of makeup are available currently, and what they can be used for
♦ How to apply foundation seamlessly and flawlessly to achieve a beautiful look
♦ How to apply cream contour from a professional
♦ How to achieve amazing eye looks for any occasion
♦ How to apply false lashes the easy way
♦ How to apply lipstick beautifully
Who is the course aimed at?
This course is intended for anyone who loves makeup and who would like to learn to apply their own makeup from a professional. In particular, this course is aimed at those who want to create a complete look, with contour, lashes, eyes, lips, and who wants to get the inside scoop on skincare and makeup from a professional makeup artist.
What are the entry requirements?
♦ You need to be at least 16 years old
♦ You should have a basic grasp of English
♦ You will need to bring your own makeup to use during the class
What qualification will I gain?
♦ You will receive an accredited Celebrity Makeup Master Class certificate upon successful completion of the course.
♦ Also, you have an option to apply for ABC Awards accredited certificate by completing an assessment and you will receive this certificate directly from ABC Awards.
Terms and Conditions
Learners can cancel the course and receive a full refund 14 business days prior to the start date of the course. If we do not have 10 business days' notice we cannot offer a refund.
Study365 reserve the right to reschedule any classroom session up to 48 hours prior to the classroom session. The session may be rescheduled due to tutor illness, low numbers of attendees for the session or other unforeseen circumstances.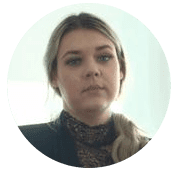 Devon Bishop is a Professional Makeup Artist and Tutor. She graduated from Coventry University with a Foundation Degree in Artistic Makeup and Special Effects. She also gained a degree in teaching and education. She has worked in industry for the past 7 years for names such as, ITV, Channel 4, Sony, London & Paris fashion week
"Devon was absolutely fantastic. She gave us so many amazing tips. I've always found it really difficult to apply false lashes by myself, but Devon walked us through the process step-by-step, which made it so easy. Can't wait to do my makeup next time I go out."
"This course was loads of fun and I definitely learnt a lot as well. Being able to ask questions as we went along made such a difference. The highlight was definitely the contouring, and Devon was so friendly and helpful, which made it a really special experience."
"I attended the celebrity makeup masterclass, and it was such a treat, I was really happy with the course. I love makeup and it's never looked so good. Devon gave us loads of great tips, we got one on one time with a professional makeup artist & we all got a goodie bag to take home, so it's really good value for money."