You're only as good as your CV to employers, so get certified and give yourself an advantage.
This Course Package includes the Six Sigma Black Belt Official EXAM. There is no additional cost for the exams. Learners will have 12 months unlimited access to an online study platform with mentor support. You will receive an Official Sigma Black Belt Certificate upon successfully completing the exam. Limited Vouchers are available.
The Lean Six Sigma Black Belt certification training course is designed to teach you Lean techniques and Six Sigma approaches. This is a set of techniques and tools for process improvement and is now a well-recognised certification, so is a good thing to have on your CV.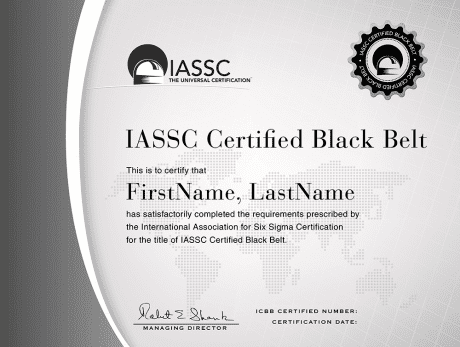 A Black Belt is fluent in the use of the Lean Six Sigma approach and tools, often delivers major performance or efficiency transformation for a business. Typically, they are Change Leaders within the business. A Lean Six Sigma Black Belt possesses a thorough understanding of all aspects within the phases of D-M-A-I-C. They understand how to perform and interpret Six Sigma tools and how to use standard principles of Lean.
This certification course will prepare you to successfully lead and execute Lean Six Sigma projects, perform Six Sigma analysis, and use the Define, Measure, Analyse, Improve and Control methodology.
The course is comprised of professionally narrated e-Learning modules, interactive quizzes, tests and exams. All delivered through a system that you will have access to 24 hours a day, 7 days a week.
Learning with Study 365 has many advantages. The course material is delivered straight to you, and can be adapted to fit in with your lifestyle. It is created by experts within the industry, meaning you are receiving accurate information, which is up-to-date and easy to understand.
Who is it for?
Course Description;
Training Objectives:
Method of Assessment:
Exam Preparation:
SPECIAL NOTE:
Entry Requirements for the exam:
Certification:
Career Path:
Benefits of achieving the Six Sigma Certification
Lean Six Sigma Black Belt is most beneficial for organisations that encourage employees to take up Quality projects and ensure efficiency in all business/industry processes. Lean Six Sigma Black Belt meets the needs of the following:
Senior Management
Management students
Team leaders
Software Professionals
If a company intends to implement Six Sigma, then the management of the company needs to be trained
Project Managers
Quality Assurance Engineers
Software Quality Assurance team members
This online Lean Six Sigma Black Belt Training course has been designed for 18 guided learning hours. For a full list of modules, please see the curriculum section below.
Understand Lean Six Sigma and the DMAIC methodology.
Learn and apply skills in project management, process management, lean, change management, and basic statistical analysis.
Understand the Black Belt's role in a successful Lean Six Sigma deployment.
Properly scope, define and lead Lean Six Sigma projects.
Transition projects from phase to phase.
Close out projects upon completion.
Present projects to peers, managers and senior leadership.
Apply methods learned in the DMAIC process to business issues.
Apply statistical analysis to determine the relationship between key inputs and process outputs.
Characterize the equation y = f(x).
Implement controls to sustain gains.
Effectively manage team dynamics.
Navigate statistical analysis software (SigmaXL or Minitab).
After you have familiarised yourself with the Six Sigma terminology, have a good understanding of the 5 phases, and have successfully passed any mock exam you should be ready to take your final exam.
Details of the exam:
Number of questions: 150 Multiple Choice Questions. Duration: 4 hours. Pass mark: 70%.
In order to achieve the professional designation of IASSC Certified Black Belt (ICBB) from the International Association for Six Sigma Certification candidates must sit for the IASSC Certified Lean Six Sigma Black Belt Exam and achieve a minimum score of 580 points out of a total potential of 750 points.
There is no limitation or time restriction on examination retakes. Need to pay retake exam fee separately each retake.
All questions are multiple choice.
Results are sent within 2 business days upon receipt of the exam papers.
Type of Exam: Proctored exam based.
The sole objective of the exams is to measure knowledge not work or project experience.
All exams are available in English. IASSC Certified Black Belt exams are also available in French.
All IASSC exams are closed book exams. IASSC provides a Reference Document, that contains all formulas and tables one will need during the examination. You can download the Reference Document here: IASSC Reference Document. 
For those who wish to sit for the exam, it is recommended, but not required, that Lean Six Sigma training is obtained through a qualified institution, Lean Six Sigma trainer or corporate program.
It is also recommended, although not required, that those sitting for the exam have some degree of real-world Lean Six Sigma work experience and project application experience.
This course package includes the Lean Six Sigma Black Belt official Exam, you do not need to purchase the exam separately. Please contact our Help Desk for further information.
In order to become IASSC Black Belt certified, it is not necessary to be Green Belt certified beforehand, or have prior industry experience, or complete and submit projects as part of the Black Belt certification assessment.
There are no specific entry requirements for the IASSC Certified Lean Six Sigma Black Belt Exam, but learners must be 16 and have a basic grasp of the English Language, numeracy, literacy and ICT.
The exam syllabus is based on the IASSC Universally Accepted Lean Six Sigma Body of Knowledge (ILSSBOK), developed as a result of research conducted over a two-year period, among 1000 companies.
Upon successful achievement, Professionals will receive a Certificate in IASSC Certified Black Belt (ICBB), suitable for framing, issued by the International Association for Six Sigma Certification or its designated Examination Institute, PeopleCert.
This certifies you to fill a variety of positions, such as:
Lean Six Sigma Consultant
Lead Manufacturing Engineer
Process Development Engineer
Compliance Structural Engineer
Reliability Engineer
Operating System Specialist
Senior IT Project Manager
Warehouse Operations Manager
Business Process Analyst
Data Scientist
Project Engineer
Director, Performance Excellence
Differentiate yourself
Demonstrate your commitment to on going education and professional standards
Increase your marketability
Promote best practice in your field
Course Curriculum
1. Organization Planning and Deployment
Organization Planning and Deployment

01:49:00

2. Leadership Skills
Leadership Skills

01:00:00

3. Organizational Process and Management
Organizational Process and Management

00:47:00

4. Team Working and Management
Team Working and Management

02:05:00

5. Define Phase
Overview of the Define Phase and the Voice of the Customer

01:33:00

Business Case and Project Charter

00:45:00

Analytical Tools

00:30:00

6. Measure Phase
Process Analysis And Documentation-Part 2

00:46:00

Process Analysis And Documentation-Part 1

01:32:00

7. Analyse Phase
Measuring and Modeling Relationships

00:28:00

Additional Analysis Methods

01:48:00

8. Improve Phase
Design of Experiments (DOE) Part-1

00:37:00

Lean Methodology & Implementation

02:02:00

9. Control Phase
Maintain Controls & DFSS System

00:45:00

Statistical Process Control (SPC)

00:28:00

Exam Preparation and Key Concepts
Prep And Key Concepts-Part 1

00:30:00

Mock Exam
Mock Exam : Lean Six Sigma Black Belt

03:00:00

Book Your Official Exam
EXAM BOOKINGS – SIX SIGMA

00:00:00
Students feedback
No Reviews found for this course.
Browse Our
RELATED COURSES